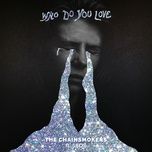 Who Do You Love
- The Chainsmokers, 5 Seconds Of Summer
6,501
Lời bài hát: Who Do You Love
Ca sĩ: The Chainsmokers, 5 Seconds Of Summer
Bài hát: Who Do You Love - The Chainsmokers, 5 Seconds Of Summer

[Verse 1: Luke]
Yeah
Found cigarettes in your Fendi coat
Even though you don't even smoke
Always changin' your access codes
Yeah, I can tell you no one knew

[Pre-Chorus: Luke]
Yeah, you've been actin' so conspicuous
You flip it on me, say I think too much
You're movin' different when we makin' love
Baby, tell me, tell me

[Chorus: Luke & Ashton]
Who do you love, do you love now?
I wanna know the truth (Whoa)
Who do you love, do you love now?
I know it's someone new
You ain't gotta make it easy, where you been sleepin'?
This *** is keepin' me up at night, just admit it
Who do you love, do you love now?
I wanna know, I wanna know who

[Drop]
Now, now, who do you, who do you love, love (Yeah)
Now, now, who do you, who do you love now? (Oh)
Now, now, who do you, who do you, you (Yeah)
I wanna know, I wanna know who

[Verse 2: Calum]
Well, keep switchin' your alibi
Or stutterin' when you reply
You can't even look me in the eye
Oh, I can tell, I know you're lyin'

[Pre-Chorus: Calum]
'Cause you've been actin' so conspicuous
You flip it on me, say I think too much
We're movin' different while we're makin' love
So, baby, tell me, tell me

[Chorus: Luke & Ashton]
Who do you love, do you love now?
I wanna know the truth (Whoa)
Who do you love, do you love now?
I know it's someone new
You ain't gotta make it easy, where you been sleepin'?
This *** is keepin' me up at night, just admit it
Who do you love, do you love now?
I wanna know, I wanna know who

[Drop]
Now, now, who do you, who do you love, love (Yeah)
Now, now, who do you, who do you love now? (Oh)
Now, now, who do you, who do you, you (Yeah)
I wanna know, I wanna know who

[Pre-Chorus: Michael]
(Who) You been actin' so conspicuous
(Who) You flip it on me, say I think too much
(Who) Movin' different when we makin' love
(Who) Baby, tell me, tell me

[Chorus: Luke & Ashton]
Who do you love, do you love now?
I wanna know the truth (Whoa)
Who do you love, do you love now?
I know it's someone new
You ain't gotta make it easy, where you been sleepin'?
This *** is keepin' me up at night, just admit it
Who do you love, do you love now?
I wanna know, I wanna know who

[Drop]
Now, now, who do you, who do you love, love
Now, now, who do you, who do you love now?
Now, now, who do you, who do you, you
Now, now, who do you, who do you love now?

[Chorus: Luke & Ashton]
You ain't gotta make it easy, where you been sleepin'?
This *** is keepin' me up at night, just admit it
Who do you love, do you love now?
I wanna know, I wanna know who

[Outro]
Who do you, who do you love, love
Now, now, who do you, who do you love now?
Now, now, who do you, who do you, you
Ca nhạc mp3
Who Do You Love
do ca sĩ
The Chainsmokers, 5 Seconds Of Summer
thể hiện, thuộc thể loại
Electronica/Dance
hay -
Tải Nhạc Về điện Thoại
- ca nhạc mp3. Nghe và tải nhạc mp3 nhanh với chất lượng tốt nhất. Hãy nghe và thưởng thức âm nhạc tại và những mới nhất nhé.
Thể loại Electronica/Dance đã cho ra bài hát Who Do You Love trên Tải Nhạc Mp3 Miễn Phí. Đây là một bài hát do ca sĩ The Chainsmokers, 5 Seconds Of Summer thể hiện. Các bạn có thể nghe, download (tải nhạc) bài hát, playlist/album, MV/Video miễn phí tại đây.
nơi tải nhạc mp3 miễn phí nhanh nhất, hay nhất, chất lượng nhất!